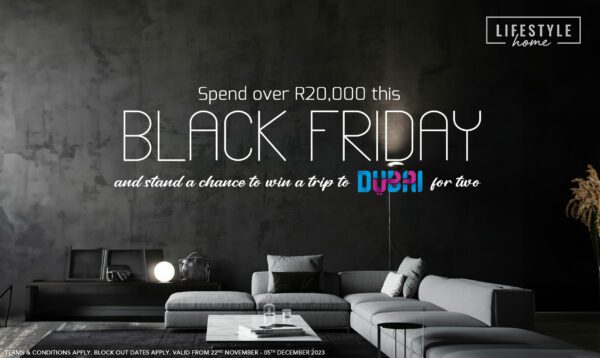 Lifestyle Home Dubai Trip Giveaway – Terms and Conditions
Eligibility:
   – The giveaway is open to individuals aged 18 years or older.
   – This giveaway only applies to individuals that are based in South Africa.
   – Employees, affiliates, and immediate family members of Lifestyle Home are not eligible to participate.
Entry Period:
   – The giveaway entry period begins on 22/11/2023 and ends on 05/12/2023, 00:00
How to Enter:
   – Participants must purchase for over R20,000.00 to gain a single entry.
   –  Multiple entries can be made into this competition by making purchases of R20000 each   time or collectively doing one purchase i.e.:
Purchase 1- R20000 = Entry 1
Purchase 2 – R40000 = Entry 2
– In order to enter: Follow us on Instagram, repost the post, and subscribe to our newsletter on www.lifestyle-home.co.za.
   – Entries must be submitted within the specified entry period to be considered.
   – Please be advised that multiple entries do not guarantee winning the competition
Prize Details:
   – The prize includes a trip to Dubai scheduled for travel in March 2024.
   – The trip package covers accommodation, flights, and visas only.
   – The winner is responsible for any additional fees, such as taxes, associated with the
     Prize.
   – The total prize value is estimated at R75,000.00.
Winner Selection:
   – The winner will be selected randomly from eligible entries.
   – The draw will take place on [14th December 2023], and the winner will be publicly
     Announced on our Instagram Account and will then be contacted immediately.
Claiming the Prize:
   – The winner must respond to the notification within 3 days to claim the prize.
   – In order for the winner to claim the price, the following verification process will be required
     i.e.:
A valid south African ID, driver's license or passport.
A copy of the invoice and proof of payment of the purchase.
A valid proof of residence.
   – Failure to respond within the specified period will result in the selection of an alternative winner.
Travel Restrictions:
   – The trip must be taken in March 2024.
   – Travel dates are subject to availability and blackout periods.
Prize Conditions:
   – Clearly state any restrictions or requirements for the winner during the trip.
   – The prize is non-transferable, and no cash alternative will be offered.
Publicity:
   – By participating in the giveaway, the winner agrees to Lifestyle Home's use of their name and image for promotional purposes.
Privacy:
    – Personal information collected during the giveaway will be used solely for the purpose of administering the promotion.
General Conditions:
    – Lifestyle Home reserves the right to modify or terminate the giveaway at any time and under any circumstances.
    – Lifestyle Home is not responsible for any technical issues that may affect entry submissions or prize notifications.
Governing Law:
    – These terms and conditions are governed by the laws of South Africa.